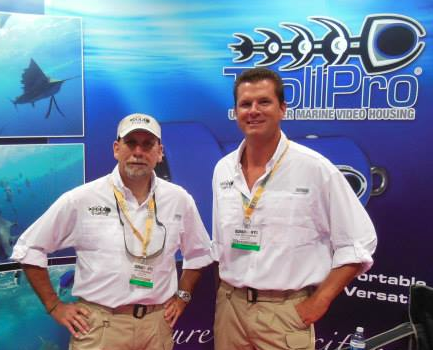 TrollPro®, one of the most innovative accessories to come along in quite a while, expands the versatility of your compact waterproof video camera to produce stunning, professional quality, underwater action video of your trolling spread. The latest model is designed to support the full line of GoPro™ HD Hero cameras, the Garmin Virb cameras, and many of the latest small action cameras with the same size and GoPro style camera mounts, rapidly gaining popularity with boaters and sports fishermen as one of the most affordable, high-performance, high-definition video cameras with waterproof features. TrollPro's patented design is making quite a splash at its public unveilings worldwide. Designed, tested and produced by Virginia Beach Charter Captain Dave Wessner, in association with Get Reel Lure Company founder Captain Don Malkowski, now also TrollPro's Pro Staff Director. Wessner, a retired Marine, tests weapons systems for the US Marine Corps and is no stranger to tough requirements and rigorous testing.
Dave Wessner explains, "During the conduct of both general recreational fishing and charter fishing operations, we explored numerous systems and methods to photograph and video our activities. We began testing of our own designs in early 2006. Several commercially available video systems and waterproof cameras were purchased and compared, but the results did not meet the requirements of general affordability, ease of use, high performance, ruggedness, and non-interference with the conduct of fishing and safe boat operation."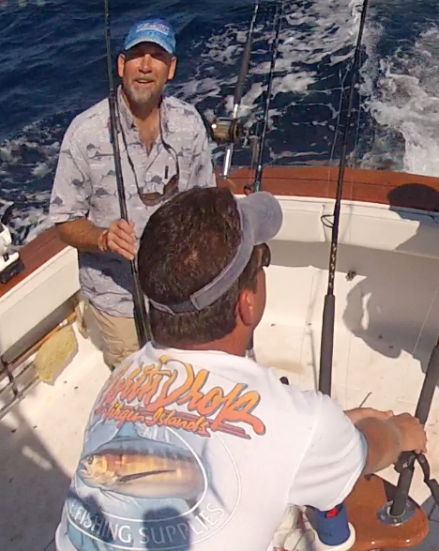 When a versatile, high performance, affordable sport camera and waterproof housing was found to be readily available, that form, fit and function was selected for development of a purpose- built trolling housing for use as an accessory. The new design was prototyped and proof-of-concept testing began in mid-2008. The selected camera was the GoPro™HD Hero which fits in the palm of your hand and produces hours of professional quality HD video on a single battery charge. The camera in its dive case is waterproof to 180 feet. The GoPro™ camera has been used in motorsports, surfing, snowboarding, and a variety of other extreme sports, and now sportfishing can be added to the list.  Now, many of the action cameras are compact size and use the same camera mount system that will fit in TrollPro!
Development trials of TrollPro® housing designs and prototypes identified some early failures in fabricated mounting, adhesives and complicated production processes; however, overall performance of the housing was extremely promising. The prototype was re-designed in-house to correct those failures and potential weaknesses. Developmental Testing was conducted on basic design and modifications continued throughout 2010. Operational Testing of a production representative housing was completed in 2010. The patented hydrodynamic design of the trolling housing provides a highly stable platform at trolling speeds for clear, wide field of view video recording on the camera's removable data card. The video is downloaded from the camera or card to your laptop for viewing, editing or saving to a DVD.  From our early hand-built housings to our current modern production facility in the USA, TrollPro now boasts several models including DredgePro® and continues development of new ideas every day.
Wessner added, "What started as a desire to video the underwater action of our trolling lures and baits during our fishing operations, has rapidly expanded to a "wait till you see this" addition to all our fishing video memories. Adding a TrollPro® trolling housing and GoPro™ HD Hero camera is the easiest, most versatile, and most affordable system available for reliable underwater and top water fishing shots."
TrollPro® and DredgePro® have made numerous appearances on 'Shark Week' and other major documentary segments, providing scientists and researchers with a valuable tool to 'Capture the Excitement' of a variety of Marine Life.
The TrollPro® and DredgePro® trolling housings and GoPro™ HD Hero, or Garmin Virb,  combination produces high definition, professional-quality underwater shots of your lures, baits and fishing action behind and below the boat comparable to other systems costing thousands of dollars more. Visit TrollPro.com for details.
*Designed for use with GOPRO® products. GOPRO® is a registered trademark of Woodman Labs, Inc. in the United States and other countries.
Contact Us:
Toll Free 1-800-378-1965
Email: 
trollpro@cox.net